ACI would like to thank all of the Corvette® enthusiasts
that attended this year's show.
There were 108 Corvettes on hand to enjoy the gathering, shop tours, beautiful weather, and special discount pricing for the day.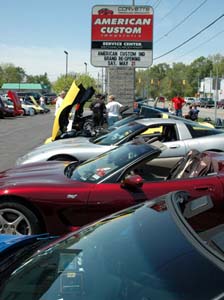 This year had special meaning, since it was ACI's official "Grand Re-Opening" after the fire we experienced last October. I'm pleased to say that we are now fully operational and ready to do anything that your Corvette may need.
If you did not get a chance to stop by for the open house, stop by today to visit the rebirth of our service center!
Here are a few photos of the day's activities.
Thanks again, Bart Lea
Call or e-mail.

ACI for all your performance and mechanical needs today !
---
[Home] [What's New] [Welcome] [Monthly Specials ] [Show Schedule] [ACI Catalog]
[Tour ACI] [Photo Gallery] [Retail Orders] [Retail Prices] [Warranty/Shipping Info.]
[Shop Services]
©2001-2004, American Custom Industries. All rights reserved. The name American Custom Industries, ACI, the ACI logo and acivette.com are trademarks of American Custom Industries. Corvette, all related Emblems and related vehicle body designs are General Motors Trademarks used under license to American Custom Industries.

Some Showroom accessory item photos are provided by, and used with permission from Mid America Motorworks. This entire site with its content is copyright protected. The images on this site may not be copied or reproduced without written permission from American Custom Industries.

All statements and recommendations contained herein are based on information we believe to be reliable, but the accuracy or completeness thereof is not guaranteed.